Waiting for that last spring frost to happen so you can plant your vegetables outside takes major patience, am I right? Luckily, there is something called a cold frame! If you've never heard of a cold frame, well today is the day to learn something new about growing food! A cold frame can extend your growing season in the fall, and allow you to plant earlier in the spring.
A proper cold frame definition is an angled box, with an open bottom, and a translucent top. Its job is to reflect the sun and keep the plants inside warm. A not-so-proper definition is… cold frames are awesome! They pretty much mean you can grow food during the otherwise un-garden-able months.
A cold frame can be any size and made out of a variety of materials. Most people make a wood base with a glass top (either an old window, or Plexiglas glass, or corrugated panels). I've even seen some cold frames made out of straw bales with a window on top! Below are some pictures.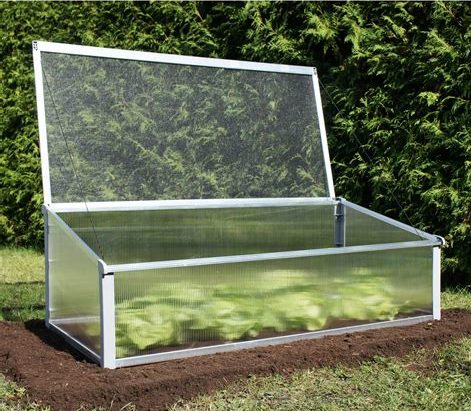 Let's get into some things you should know about cold frame gardening!
What is the difference between a cold frame and a greenhouse?
The difference between a cold frame and a greenhouse is the material and size. A cold frame generally has a wood base that is angled South, with a glass top and is only 1-2 ft off the ground. Whereas a greenhouse is generally made fully of glass or plastic and is much taller allowing for year-round climate control and space for standing and raised beds inside.
Can you start seeds in a cold frame?
The only seeds I would start in a cold frame are cold hardy ones! Vegetables like tomatoes, zucchini, peppers, eggplant, etc. should be started indoors or in a heated greenhouse and then transplanted outside after the last spring frost. But, plants like cold hardy lettuces, kale, radish, arugula, endive, carrots, spinach can all be planted from seed in a cold frame.
Do cold frames need to be airtight?
A cold frame should be as airtight as possible during the evening when the temperature drops, but as the temperature increases during the day, venting is required or else the plants will fry!
What can I grow in a cold frame?
Carrots
Beets
Radish
Turnip
Cold Hardy Lettuce
Spinach
Mizuna
Arugula
Corn Salad
Mibuna
Scallions
What is the best position for a cold frame?
A cold frame should always face South, as it will get the most sun exposure and light possible. Cold frames can be placed on a South facing wall for protection from strong winds, but if there is no wall available and they must be planted out in the open. It's a good idea to bury the frame a few inches into the ground for better insulation and so it doesn't blow away (if you live in a windy climate as I do).
You can also build a cold frame right onto your raised garden bed!
When should I use a cold frame?
Cold frames are generally used in the spring and fall months. To plant earlier in the spring and later in the fall. They can still be used in the summer months but will need a lot of airflow, and it would probably be best to keep the top lid open all the time and just use the base as a planting bed. You can also use them over the winter to keep plants alive.
How do you keep a cold frame warm at night?
If you are worried about the temperatures dropping at night, there are a couple ways to keep your cold frame warm during the night:
Place an insulating layer around the cold frame such as straw bales, boughs, or even soil.
Fill a few water bottles and place them inside. During the day it will retain the heat, then at night, the warmth will slowly be released.
Place a blanket over the cold frame at night. This can be a literal blanket, a frost protection layer, or even a tarp or carpet.
How to Plant in a Cold Frame
After building your cold frame, place it in its spot and fill it with soil. Keep the cold frame closed for a couple of days as you gather your seeds. This will heat the soil before the seeds go in, allowing for better germination.
Choose a variety of greens and roots to grow in your cold frame.
Plant them according to the spacing on the back of the seed pack.
Water well, and consistently in the spring and fall months making sure everything is adequately watered. If it's nice out, you can keep the lid open and let the rain do its job, if not you will have to water it manually.
Mind the temperature drops at night and be sure to insulate your cold frame (with the methods mentioned above, if needed).
Likewise, mind the temperature during the day, and if it gets too hot in your cold frame, be sure to vent it by opening the lid and letting the fresh air in! If the temperature outside is above 4 degrees Celsius, open the cold frame a couple inches with a rock or stick, if the temperature outside is above 10 degrees Celsius, open the lid all the way. In the evening or just before it gets dark, close the lid for the night.
I'd love to know if you've ever used a cold frame, or if you have any questions. Let me know in the comments below!
Talk soon,
Abbagail